Team Innova / TeamZilla
Lacey Brugler 2X Series
Co-Sponsor a World Champion


Star Destroyers
DX Aviars
XT Colts

---
Look For Gifts under this Price:
Everything 150 Class
DGA
Innova DX
Innova Star Line
---
Old School Logo Hoodie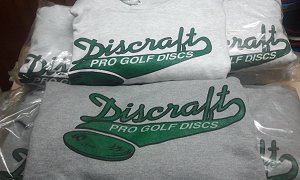 Unibomb your way through the
next poker game with this
nine ounce dawg that includes
an old school-style Discraft
logo on the front. It's a 45/55
cotton/poly fleece, with double
lined hood, grommets, matching
draw cord, muff pockets, and
set in sleeves.

---
Tim Brooks--TeamZilla on the Florida Tour
Tim Brooks and Matt Tittle break
Gainesville's Doubles Record at -18, And Ace from Tim

---
Company Info:
Home
Contact Us
About Us
Return Policy
Home | Contact Us | About Us | Return Policy
Return Policy
We will accept any item for an exchange within 30 days
from the date of purchase. We will accept any return for a full refund,
less shipping costs, within 30 days from the date of purchase. The items
to be returned or exchanged must be in their original condition, and in
their original box. Items being returned or exchanged should be shipped
to the following address.
DiscZilla Sports
6175 East Blaney,
Peyton Colorado 80831