Team Innova / TeamZilla
Lacey Brugler 2X Series
Co-Sponsor a World Champion


Star Destroyers
DX Aviars
XT Colts

---
Look For Gifts under this Price:
Everything 150 Class
DGA
Innova DX
Innova Star Line
---
Old School Logo Hoodie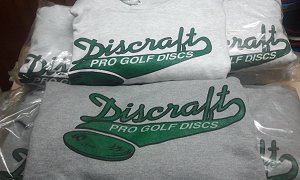 Unibomb your way through the
next poker game with this
nine ounce dawg that includes
an old school-style Discraft
logo on the front. It's a 45/55
cotton/poly fleece, with double
lined hood, grommets, matching
draw cord, muff pockets, and
set in sleeves.

---
Tim Brooks--TeamZilla on the Florida Tour
Tim Brooks and Matt Tittle break
Gainesville's Doubles Record at -18, And Ace from Tim

---
Company Info:
Home
Contact Us
About Us
Return Policy
Blue Ching Basket


The SkillShot™ is built for action! Weighing in at a very portable 26 pounds, and folding to the size of a golf umbrella, the SkillShot is the most portable basket in disc golf. It even comes with a flag for reading the wind and it's very own carry case. With colorful 600 denier polyester skins, the SkillShot™ is available in black, blue, forest green, and red. It just may also be the most visible disc golf target. With a sturdy tripod base, the SkillShot™ can be moutned on hillsides or on the flat, allowing more flexibility than flat based targets. The SkillShot™ also has 16 real chains. Keep one in your trunk for an impromptu practice session whenever, WHEREVER! The SkillShot™ is approved by the PDGA for tournament play. It's perfect for physical education programs and gym classes, for all age groups!
Price includes Shipping

Red Ching Basket


Custom Embroidery, No Extra Charge, (Free)
Price includes Shipping
Pic - Garden of the Gods, CO.

Black Ching Basket


The SkillShot™ in Black
Price includes Shipping
What do you want your Ching to Say?