Team Innova / TeamZilla
Lacey Brugler 2X Series
Co-Sponsor a World Champion


Star Destroyers
DX Aviars
XT Colts

---
Look For Gifts under this Price:
Everything 150 Class
DGA
Innova DX
Innova Star Line
---
Old School Logo Hoodie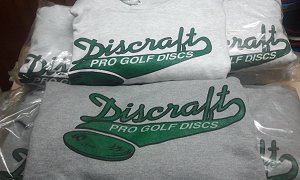 Unibomb your way through the
next poker game with this
nine ounce dawg that includes
an old school-style Discraft
logo on the front. It's a 45/55
cotton/poly fleece, with double
lined hood, grommets, matching
draw cord, muff pockets, and
set in sleeves.

---
Tim Brooks--TeamZilla on the Florida Tour
Tim Brooks and Matt Tittle break
Gainesville's Doubles Record at -18, And Ace from Tim

---
Company Info:
Home
Contact Us
About Us
Return Policy
I'm sorry, no matches were found. Please try your search again.